The Bellowing of Cain
| by Jeremy Gordon Grinnell
Book Summary, FAQs, sample chapter downloads, & more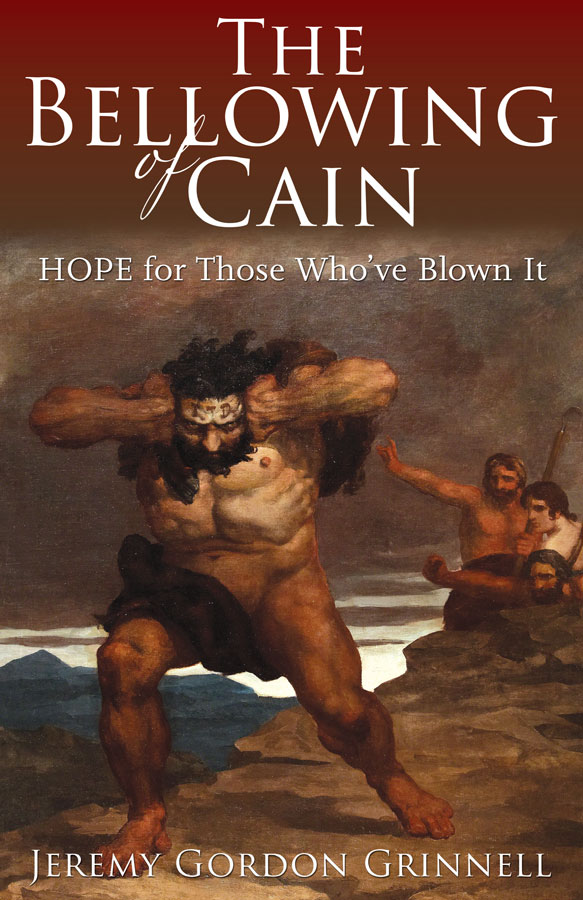 About the Author
Want to learn more about Jeremy?
Now available for purchase!
ORDER YOUR SIGNED COPY HERE:
(Books ordered here on our website are SIGNED by the author!)
PRINT | EBOOK | AUDIOBOOK
A Book Whose Time is NOW
Every day, it seems, we hear of another minister, celebrity, or neighbor whose bad choices have cost them everything they worked for.
While many excellent books have been written on how to survive and grow through pain, nearly all of them are written by victims for victims. They deal with things that happen to us—the illness, the injustice, the unmet expectation. But this fails to recognize that much of the pain we endure in life comes from our own bad choices—pain for which we are the perpetrators. This is especially true when the perpetrator is a leader in a church or other organization. For all its value, the "surviving trauma" genre fails to speak fluently to the person whose pain is self-inflicted. Where are the books that speak to the lost leader after they've ceased to be a leader? Who writes to them about their unique journey? Who can?
Do we believe in a gospel that seeks to redeem even the leaders who've so disappointed us? Do we really want to?
The Bellowing of Cain is written with a specific focus on people in public positions, who, like Cain, have made horrible life-wrecking decisions that have subsequently hurt many others. But beyond this, it's a book to help anyone who's filled with regret and loss over a bad choice that cost them greatly. 
What are the ingredients of a life headed for self-destruction? How do you end up there? How do you survive the self-inflicted loss of the life you've built? How do you process things like deserved shame, regret, and unexpected losses? How do you rebuild afterward? Is there any hope for you, any point in dreaming dreams again? 
In a culture of disposable people, where leaders who've suffered moral failure are shamed, cast aside, and forgotten, we need a book like The Bellowing of Cain to teach us about the unique journey taken by people with such baggage—baggage like shame, guilt, and remorse. Such luggage is heavy and bends the back of those who must carry it, and they often walk alone. Who speaks for them? If they enter heaven at all, it will be minus an eye or a hand. But unless redemption exists for the worst of us, it exists for none.
Sample chapter downloads & more
PDF | Chapter 1
The Bellowing of Cain – Chapter 1: Self-Deception
This chapter comes from Section 1, "Throwing It All Away: Perspectives on Self-Destruction," which examines common sources of self-destruction, such as self-deception, obsession, sexualized relationships, fear, and depression.
"This is a must-read book which will stretch and enlarge our imagination for what restoration and redemption can look like in the body of Christ."
Why did you write this book?
When you've been through a horrible situation—especially one of your own making—you want your experiences to be of use to others. It would be a shame to have our suffering wasting, when it can help others endure and thrive.
Who is this book for?
While the book is written first for those who've endured a forced exit from ministry due to their own destructive choices (because that was my experience), it speaks to anyone who's great burdens of life are a result of their own folly. Additionally, it's a resource to those who work with and love such people.
Why write a book to perpetrators of evil instead of victims?
Because no one has yet done so! But more to the point, victims receive the fullest justice when those who hurt them are brought back into the human fold and restored. When, after having endured all the just consequences of their actions, we still deny perpetrators of evil the opportunity for restoration, we leave them in despair and without hope. Then they reoffend and create more victims. To restore victims, we must work to restore perpetrators too.
How does your family feel about this book?
They fully support the book. My wife, Denise, even wrote two chapters in the book reflecting on why she stayed with me and how the actions of the various institutions in my story affected our family.
What happens if you raise more money than you need for the book?
Every penny given will go back into promotion and distribution of the book. Once initial costs are covered, we will explore how to expand the reach of the message via additional curricula and other media.
What comes after this book?
We must wait to see the sort of reception the book receives, but we envision small group curricula and perhaps a second shorter volume aimed more a lay readers and their experiences (rather than the clerical angle The Bellowing of Cain takes).
Don't see your question? Drop us a line!